Our Services
One Stop For All Of Your Cleaning Needs

Traditional Drycleaning
From suits to dresses, sweaters, slacks, shirts, and everything in between, our gentle yet effective cleaning services will expertly remove stains, eliminate lingering odors, and return your items to a pristine condition.

No item is too small or too difficult to handle! For items in a delicate condition we are happy to talk with you about cleaning options and ensure you are confident entrusting them to our care.

Every item that you bring to us goes through a rigorous inspection for missing buttons, loose threads, and lingering spots before we return it to you. 

Alterations
Whether your clothes are too large or too small, or need some TLC, allow our onsite tailor to make your clothes wearable again. 

Area Rugs
Our rugs get a lot of activity, which means they attract dust and dirt over time. But don't despair - we clean rugs of all sizes and shapes.

Bedding & Comforters
Soften and fluff your bedspread and comforters with us. Our non-toxic hydrocarbon cleaning fluid leaves no odors or fumes assuring you a clean, chemical-free spread to sleep under. We also offer hand washing and wet-cleaning of household items.

Drapes & Curtains
Cleaning draperies and curtains will bring out the freshness in any room of your house. They'll look so good after we work with them, you might even think you've gotten new ones!

Shirt Laundry
You will love our shirt laundry. We triple check for broken buttons, pre-spot cuffs and collars, use only low PH detergents and wheat starch for a perfect shirt. We also offer our exclusive 100% hand finish for fine shirts such as Brioni, Armani, Thomas Pink, Q-Custom and Lombardo.
For our clients who would prefer to keep their treasured items in a secure location or want to reduce clutter at their homes, we offer storage at our facility. You can rest assured that we will keep your items safe and secure until you need them again. Contact us for pricing.

Tablecloths & Linens
Beautiful fabrics can make a house a home. Nothing beats the feel of freshly washed and pressed bed linens, especially when we add the perfect level of starch (your choice, of course!). For that special occasion, have your tablecloth ready by having it professionally laundered and pressed by us.

Wedding Gown Cleaning and Heirlooming
Wedding boutiques from Neiman Marcus to Stanley Korshak to Stardust trust us to care for their customers' most elegant and delicate gowns from designers like St. Pucci and Vera Wang, and many more. For brides from Hawaii to New York to our hometown of Dallas, we help ensure their dresses are in perfect shape before the big day. After the event ends, we offer dress cleaning and heirlooming to ensure your gown can be passed to the next generation.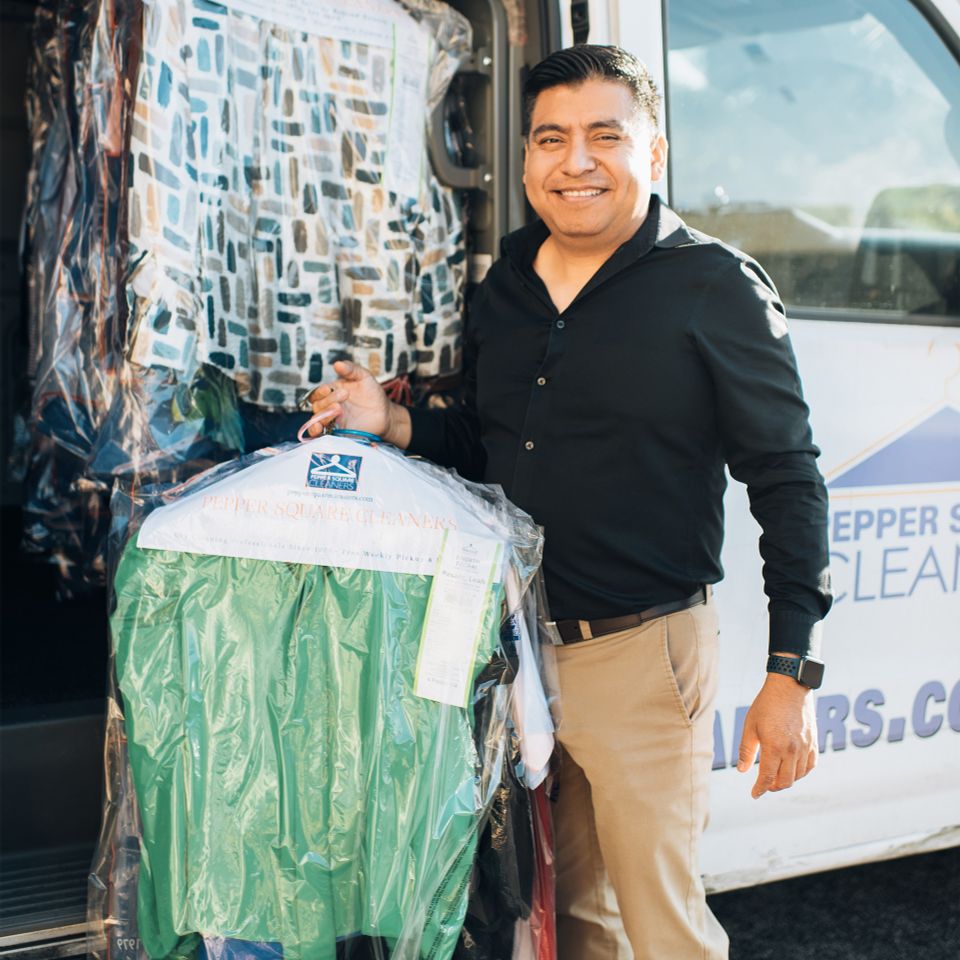 Delivery
Experience exceptional cleaning and unmatched convenience with our free pick-up and delivery service to Plano, North Dallas, Uptown, and Downtown with no minimum delivery size. Simply sign up online or over the phone, and we'll provide you with a new customer kit including a door hook and laundry bag.